Toward a world without a need to fight against breast cancer

Lily MedTech Inc. is a spin-off company from the University of Tokyo.
We are developing a medical imaging device for breast cancer and aim to change the world through innovative technology.
The Importance of Breast Cancer Examination
Are you familiar with the term "dense breasts?"
The Ring Echo system is developed with the aim to overcome common issues with current breast cancer screening: the examinee places her breast into a hole in the bed, where it is scanned by the ultrasonic transducer without the pain or risks of other examination techniques.
It is critical to receive breast cancer check ups that suit your specific condition.
Dense breasts tend to be more common among Asians and younger women.
If you have been told by a doctor that you have dense breasts, you and your doctor may consider supplementing your annual mammogram with ultrasound Imaging.
*5 Annals of Internal Medicine, 2008 Mar 4; 148(5): 337–347.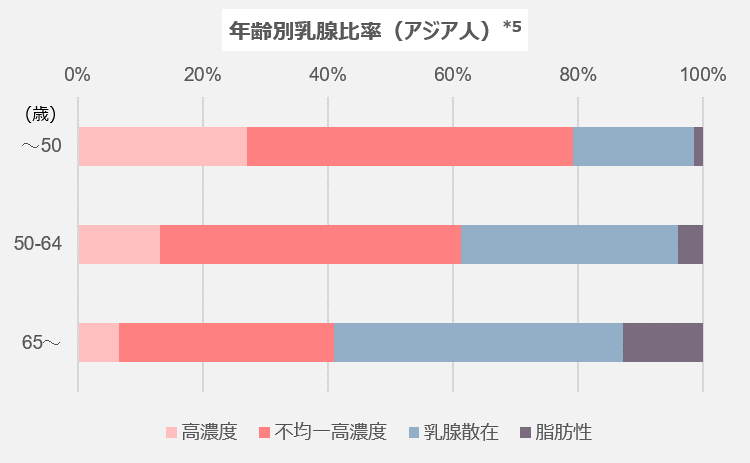 Breast cancer has a very high survival rate, given early detection and treatment.
If breast cancer is found and treated at an early stage, the survival rate is very high. However, if detection and treatment are delayed and the cancer metastasizes to other internal organs, the survival rate reduces dramatically.
*2 "The report of clinical statistical studies on registered mammary cancer patients in Japan No.29" at Japanese Breast Cancer Society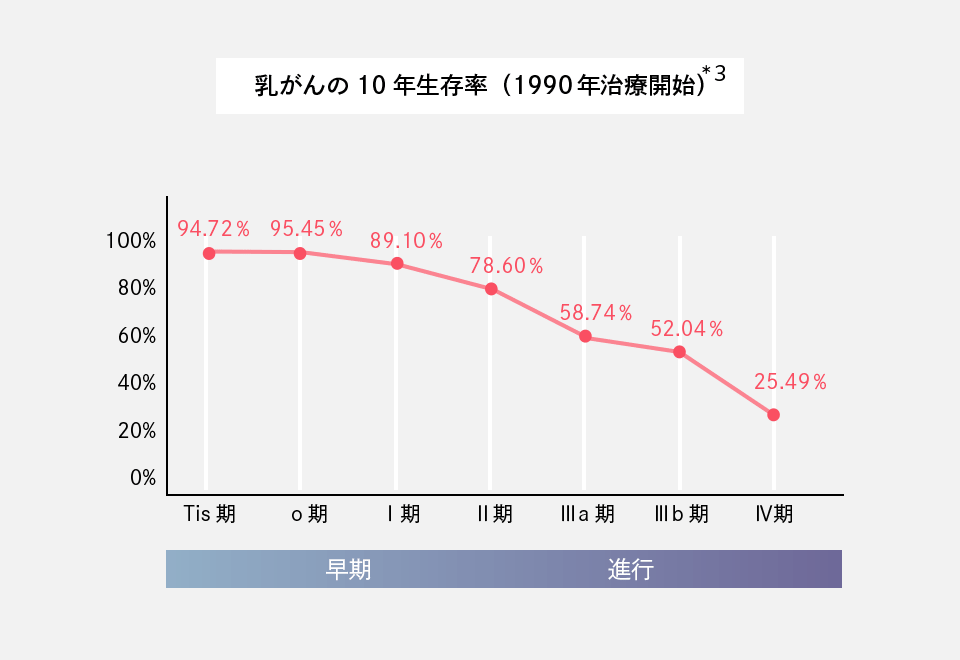 What can you do to detect breast cancer early?
Having a regular routine of self examination for breast cancer can be very effective at finding small changes in the breast, such as lumps inside the tissue, tightened or discolored skin, or secretion from the nipples. These are all common early indicators of possible breast cancer. However, since early detection of breast cancer can sometimes be difficult through self exams alone, regular breast cancer examinations are also important.
Aiming to develop breast cancer screening device friendly to all women
~About our Ultrasound imaging system for mammography~
Lily MedTech's Ring Echo* system is an innovative diagnostic imaging system for detecting breast cancer using a ring-type ultrasonic transducer, developed from ultrasound imaging technology from Faculty of Medicine and School of Engineering, The University of Tokyo. We conduct clinical research with some hospitals such as the Tsukuba International Breast Clinic and the University of Tokyo Hospital.
*Transducers arrayed in circulate shape, which enable us to obtain homogeneous and high-resolution images.
Breast Screening Lily MedTech aims for
Lily MedTech aims to realize the breast screening device which is friendly to all women.
Lie down and put your breast,
Screening can be done without any physical contact to your breasts
No exposure to radiation, appropriate for the women with dense breast because we use ultrasound
Obtaining close-to-natural shape 3D breast images automatically
Improving accuracy with our technology to support diagnosis
Using the system
When the patient lies down on the bed and puts her breast into the hole, the ultrasonic transducer moves up and down, taking a full 3D scan of the patient's breast. Since the transducer never touches the body, the patient feels no pain.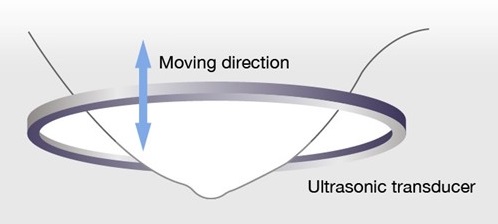 *
This image is shown for illustrative purpose only.
About Lily MedTech
Lily MedTech was established in May 2016 with the aim of developing a new ultrasound imaging system for breast cancer based on research results at the University of Tokyo. Our development is driven by our desire to contribute, to ensuring that women of all ages can remain an active part of society and enjoy the great opportunities in life. Our mission is to protect the lives of women and to bring about a world where breast cancer does not deprive women of the life, choices, or chances they had before being diagnosed.
ACCESS
7 minutes walk from Hongo 3-chome Station on the Tokyo Metro Marunouchi and Oedo Lines.
12 minutes walk from Yushima Station on the Tokyo Metro Chiyoda Line.
Entrepreneur Plaza 701 at the University of Tokyo
7-3-1 Hongo Bunkyo-ku, Tokyo 113-0033